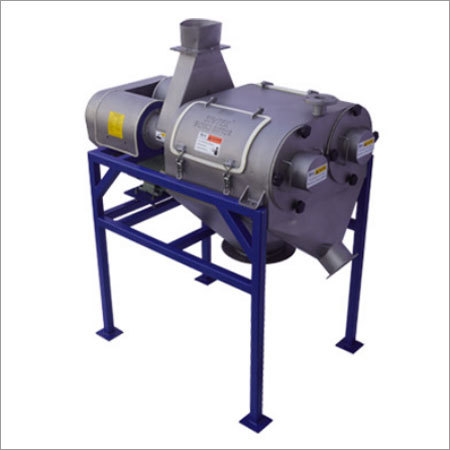 Ultra High Capacity Centrifugal Screener
Product Code : 03
Product Description
Ultra High Capacity Centrifugal Screener offered by us is ideal to be utilized for scalping, sifting, dewatering and de-agglomerating of powder and bulk solids & slurries. It is designed especially for application needing unfathomably great production limits. This is fabricated with the use of top-grade iron metal structure and components for ensuring its smooth functionality, low energy consumption and longer working life. The Ultra High Capacity Centrifugal Screener comes in tow different models one with dual engine game plan and other along with the pulley equipment.

Features:

SIVTEK Twin Centrifugal-Screener (TRS) models are proposed for applications requiring unfathomably high creation limits.
These double OR coupled radiating units are offered in two distinctive model-one with double engine game plan and other with the pulley instrument.
The twin radiating screener are furnished with a splitter-a typical item input channel to similarly separate the flood of approaching material, independent of bolster rate.
The high throughput twin radial screener from Galaxy Sivtek matches the limit of two individual outward sifters inside a base space/territory in the creation unit.
The cantilever outline with three-bearing shafts permit simple, smooth and quick cleaning of sifter hardware, which makes it more attractive than customary round vibrating sifters and separators
Benefits

Tidy tight
Tidy free operation because of inline filtering which keeps up solid creation enviornment.
Simple to examine
360 degree examination to break down filtering proficiency.
Low commotion
No vibration which comes about into less commotion than 60 DB at last coming about into clamor free screening operation.
Reduced plan
The adaptable and reduced plan fits conveniently in your present generation lines and devours less space in the creation range.
Twofold Throughput
The double divergent chamber comes about into twofold generation limit with zero item misfortune that outcomes into high productivity
Contact Us
Plot No. 1406, Gidc, Waghodia, Vadodara, Gujarat, 391760, India