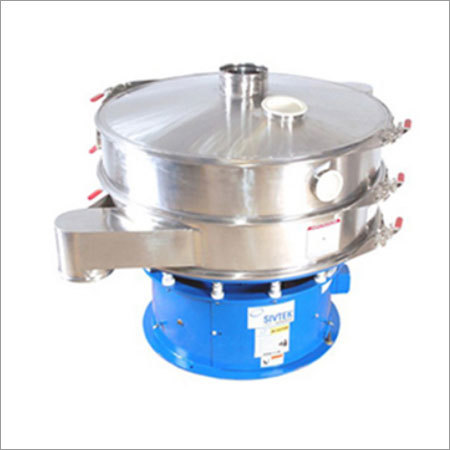 SIVTEK Vibro Separator
Product Code : 08
Product Description
As a trustworthy organization, we are involved in designing, developing and supplying a World's No. 1 SIVTEK Vibro Separator to clients. This kind of separator is designed particularly for precision screening operations, in order to ensure division of fluid from strong and strong from solids in coarse and additionally good sizes. It provides prudent, effective and successful responses for varied process businesses. Easy to operate and sturdy, the SIVTEK Vibro Separator can be availed at client-oriented prices.

Features:

Galaxy system Sivtek offers different details and hand crafts, for example, vibratory separator, vibratory screener, screening machine, sieving machine, round separator, mechanical strainers. Notwithstanding applying standard screening types of gear, Galaxy Sivtek Separator has the capacity for offering specially designed sieving/screening machine.
With over 25 years of demonstrated execution, Galaxy Sivtek Separator gives successful, prudent and effective answers for various process businesses.
Galaxy system Sivtek Separator is intended for accuracy screening operations, to guarantee partition of strong from solids and fluid from strong in coarse and additionally fine sizes.
Machines with ce logo stamping accessible on demand.
We have been extremely thankful with the quality and effectiveness accomplished for reviewing entire Black Pepper with Sivtek Vibro Separator Machine GS 60 Double Deck. They are genuinely an incredible asset for our reviewing and sieving needs.
We will like to obtain our necessity for Vibro Sifter from Galaxy Sivtek again!"- Avity Agrotech
Benefits

Rendering greatest limit and first rate effectiveness
Very proficient offering most extreme ability to machines with the goal that they give their best execution for the creation to achieve its coveted level of yield. Acquires smoothness creation because of its productive working elements.
Ease in dealing with because of programmed release of material
Savage from riotous circumstances in light of its programmed releasing property. It turns out to be anything but difficult to oversee Sivtek Vibro separator in light of its automatic qualities that permits you to take a load off.
Devours less power too diminish in the upkeep cost
Effectively reasonable as it chops down the measure of utilization power it requires and additionally the cost for up keeping the separator.
Secures component and changes in work framework
Fixes component the aftereffect of which there are relatively less once-overs then some time recently. Gets changes the current work framework and in this way high measure of generation yield with legitimate system.
Solid partition of premium items
Results of higher qualities are presently being isolated effectively with the assistance of Galaxy Vibro separator which acquires fineness the items.
Contact Us
Plot No. 1406, Gidc, Waghodia, Vadodara, Gujarat, 391760, India