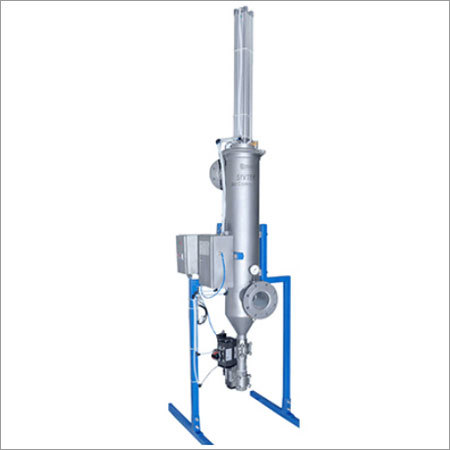 SIVTEK Self Cleaning Filter
Product Code : 02
Product Description
Being a major manufacturer and exporter, we are offering a high performance and energy efficient SIVTEK Self Cleaning Filter. This kind of filter is designed specially for addressing of sifting the material in process businesses. It is known for low upkeep need, outstanding performance, strong structure and longer working life, as it is engineering by ingenious technocrats and hardworking workers using tested quality parts & components. We offer the SIVTEK Self Cleaning Filter at competitive rates in market.

Features:

Take out thing pollution in light of condition particulate and mechanically passing on system.
Traditionalist arrangement that fits impeccably into current pneumatic thing passing on lines.
Straightforward and clean framework, no crevice, strong, solid and high adequacy separating with low power usage and upkeep.
The SIVTEK Self Cleaning Filter is outlined particularly to address the difficulties related with sifting your materials in process businesses.
It takes a shot at guideline of the weight applied by a liquid is conversely corresponding to its stream speed and that the entirety of speed and weight in streaming liquids is steady.
Benefits:

Diminishes vitality cost
Utilization of energy is diminished because of the weight drops and stream rates winning in the channel. Which additionally demonstrates increment in the overall revenues because of diminishment in vitality costs.
Expands media life
With fundamental train and appropriate upkeep of the media it can degree its working up to 4-5 years more. However manual cleaning or media substitution may required to evacuate the gathered filth.
Cost Effective:
Sivtek self cleaning channel is modest and can be moderate effectively guarantees more yield in less space and with the lower running expense.
No customary support
This channel does not requires cleaning or support routinely it can likewise work with less yet appropriate upkeep and in this way diminishment in support cost
Guarantees ideal filtration
Channel works proficiently with no disorder and the creation line runs easily with no once-overs.
Contact Us
Plot No. 1406, Gidc, Waghodia, Vadodara, Gujarat, 391760, India