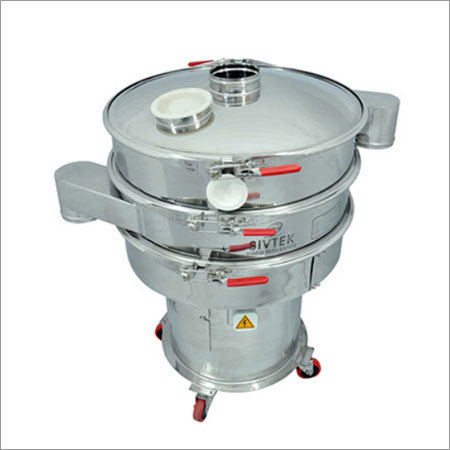 Sanitary SIVTEK Separator
Product Code : 06
Product Description
As a major manufacturer & exporter, we are bringing forth a world-class Sanitary SIVTEK Separator. This is exceptionally designed to meet cGMP standards for quality cognizant Pharmaceutical & Food assembling systems for perfect execution. It is ideal to be used for sieving or screening usage in pharmaceutical industry. To simple movability, it is fitted with two pair strong wheels. Structure is made out of supreme quality steel metal that ensure it durability and sturdiness. We offer the Sanitary SIVTEK Separator at negotiable rates in market.

Features:

Sterile SIVTEK Vibro separators from Galaxy Sivtek are uniquely intended to meet cGMP standards for very quality cognizant Food and Pharmaceutical assembling units for ideal execution.
The Sanitary SIVTEK is intended to beat customary Mechanical Sifters utilized for screening/sieving application in Pharmaceutical Industry. It can give more than twofold the throughput when contrasted with customary Sifters.
The majority of the embellishments of standard vibro screen of comparative distance across can be retrofitted to the Sanitary SIVTEK.
Benefits:

Fast screen change

Sterile Sivtek separator gives clasps in order to rolls out improvements in the screen when required.
Ease in plant developments
To acquire effortlessness the plants developments castor wheels are introduced for smooth running of the plant.
Guaranteed elastic parts
FDA has affirmed the glue and elastic parts subsequent to guaranteeing about the potential dangers for the things planned to utilize.
Made through standards
Remembering the standards of CGMP that the items ought to be of uncompromised excellent it is made that way.
Plausible
It fulfills the necessities of what a separator ought to comprise of, it is all around proposed framework that takes care of issue identified with generation.
Contact Us
Plot No. 1406, Gidc, Waghodia, Vadodara, Gujarat, 391760, India