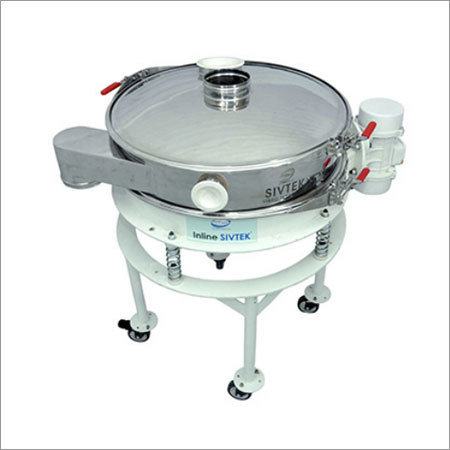 Inline SIVTEK
Product Code : 07
Product Description
Inline SIVTEK offered by us is a low profile separator provides great limits of dry or wet scalping in a low headroom outline. The cleaning & working of this equipment is simple & speedy that make this separators' scope perfect for all handling enterprises and applications such as mass pack emptying as well as screening of raw material. Easy to install and long lasting working life, the Inline SIVTEK is offered in different models and specifications at industry justified prices.

Features:

The Inline SIVTEK® a Low Profile Separator offers high limits of wet or dry scalping in a low headroom outline.
The position of safety separator has a solitary vertically mounted engine to create a filtering movement over the screen plane.
These position of safety separators fit perfectly into generation lines, giving significant screening limit without requiring over the top headroom.
Working and cleaning is speedy and simple, making this scope of separators ideal for all handling enterprises and application like pre-pressing screening, mass pack emptying and screening of crude fixings.
Benefits
Less plant territory with higher yields
Obtains less space and gives increasingly yield and is conservative in outline and doesn't require much place when contrasted with different types of gear.
Diminishment in upkeep cost
Inline Sivtek does not require customary upkeep the aftereffect of which the cost for support diminishes.
Lesser labor as simple to work
It is anything but difficult to work and is robotized so it doesn't require numerous laborers to run the machine it keeps running all alone.
Clean set up without dis-get together
Cleaning of inside channels and related fittings with no dis-get together. Shut frameworks can be dismantled and cleaned physically.
Customized gulfs and outlets
Decrease in process time because of nourishing deltas and material release outlets additionally diminishes the material developments and to coordinate to plant necessities.
Contact Us
Plot No. 1406, Gidc, Waghodia, Vadodara, Gujarat, 391760, India